FUCK YOU I WON'T DO
WHAT YOU TELL ME
Digital Terrorism 2.0 is an update of an earlier illustration work by Stephanie Meisl in 2009.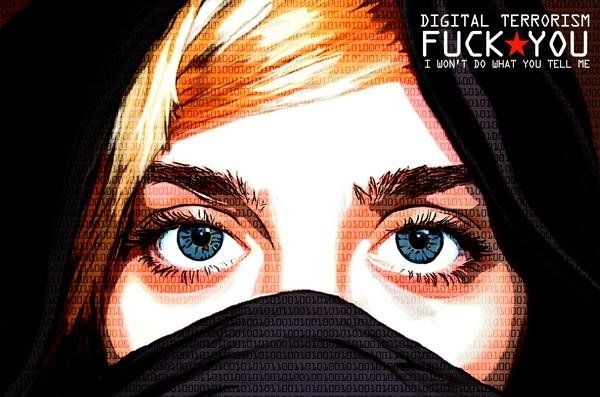 Back in 2009, one already had initial doubts whether the computer would determine your life or whether you would control the computer yourself. In both cases, it had to be recognized correctly that it definitely went in both directions. Few dominated the machine and many were already determined by the machine.
2021, 10+ years later, we find ourselves in a digital world where information chaos reigns. The machine and its technology is being abused to influence people. Whether it's online ads, influencer images on Instagram, or campaigns like Cambridge Analytica, each of us who uses these technologies is influenced in one way or another by it. The extent to which one still makes uninfluenced decisions can't really be determined anymore.
Fuck you I wont do what you tell me and the main part of the song Killing in the Name by Rage Against The Machine from 1992 should express a protest against the digital surveillance state – the new modern violence.
This installation is a transparent projection surface adapted to the dimensions of a smartphone, through which the person playing on the phone, seems to be transparent. The transparent person.

The person is synonymous with everyone who use smartphones without hesitation, install apps without reading the terms and conditions properly, and are under the belief that they have nothing to hide anyway – so it seems obsolete to deal with this creeping danger of surveillance and influence.
The frame is formed by DIGITAL TERRORISM and FUCK YOU I WONT DO WHAT YOU TELL ME – As a perpetual synonym, the frame of being present in the smartphone and one is of the opinion to get away uninfluenced.
In this installation it becomes present and visible. From above the digital terrorism and on the lower personal level our gullibility.
In the center of the composition is the human being that is flooded with endless data, information and texts and visuals. Every time one picks up the smartphone and take a selfie, connects with friends, posts on Facebook or reads the news, he/she is being watched invisibly. It does not hurt.
The news ticker inserts are headlines from a 6-month link collection of news, articles, advertisements, on the topics of artificial intelligence, cyber war, apps that steal data, etc. – a CLICKBAIT LIST
However, they have not been reviewed for content accuracy.
These headlines are meant to make the audience think, as they all come from a certain dystopian point of view, that is just there in the sphere and trigger the emotional level, to finally don't get any further attention.
Well, Fuck you I wont do what you tell me!